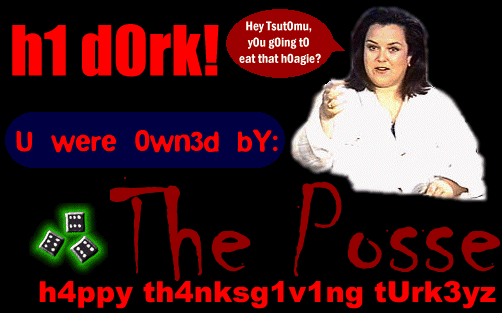 ---
FBI Crackdown nets 20+ Script Kiddies

The Posse would like to take this opportunity to personally thank the script kiddies
who keep throwing themselves at the federal government like insects to a buglight.
While you have been keeping the FBI (Federal Bureau Of Instigation) and SS (Secret Cervix)
busy tracking down 14 year old hacker hopefuls; we have spent our time burrowing ourselves
deep within Corporate America.

Ecosystems do not grow without antagonists. The internet (like it or not) has become a
virtual ecosystem that would wither and die were it not for the intervention of hackers.
Corporate America has entered this ecosystem like a viral fungus, growing ugly clusters of
.com decay, spreading misinformation like wildfire and causing the natural predators to be
removed from the ecosystem in which they provide a necessary function.

Corporate America must be removed.
It's us or them.

Take a look at the concrete wastelands that Corporate America has built upon the earth
outside your windows. Beneath that concrete there is soil wasted, soil that breeds life.

They are trying to do the same thing to the internet.

Go outside and try to breathe for just a moment... That stale thickness in the air that
threatens to choke you is the poison spewing from their smokestacks... Did you just cough?
The phlegm in your throat are their poisons and do you charge them rent ? Did you charge
them storage fees for acting as a receptacle for their toxic waste?

They are destroying the world we built to escape the one they have already destroyed!

Corporate America will trade 10 years (minimum) of your life in exchange for another $10
in profits. Their poisons, their stifling concrete morgues, their so called "progress"...

They never knew the rules, they followed you here to stalk you... To bilk you for $10
they came here because you did. Then when you got in the way of their "progress" they
fabricated losses in order to gain FBI attention. They abuse the system and steal your
freedoms.
---
Do not blame the FBI, they are playing by the rules...
Do not blame the SS, they are playing by the rules...

BLAME CORPORATE AMERICA
BLAME THE GOVERNMENT
BUT QUIT ATTACKING THE FBI AND SECRET SERVICE!

YOU ARE PLAYING BY THEIR RULES WHEN YOU DO THIS!

A COMPUTER CRIMINAL IS ACCEPTABLE TO SOCIETY THAT IS WHY WE HAVE COMPUTER CRIME LAWS
AND PRISONS!

ATTACK CORPORATE AMERICA...

THE RACE BEGINS... NO MORE .COM'S ON THE INTERNET BY Y2K.
---
SEIZE THE BACKBONES! THEY BELONG To YOU!
CONTROL THE MEDIUMS BY WHICH THESE CORPORATE IDIOTS DO BUSINESS.

H4ppy Th4nksg1v1ng Turk3yz,

The P0sse.
Greets out 2:

Gary Dell'Abate, Scott Charney, Gale Thackeray, Terry Atchley,
Kurt Von Brauch, Don Delaney, Chris Goggans Tsutomu Shimomoura, Justin Tanner Peterson,
John Markhoff, John Perry Barlow, Netta Gilboa, Corey Braun, Peter "HFG" Shipley,
Berferd, Dan Farmer, Wietse Venema, Dale Drew, Joshua Quittner, Stephanie Hanna,
Joe Cuervo and Jim Beam.

Kick in the colostomy bag out 2:

gH, Eric Burns, mosthated, mindphasr, Kevin Mitnick, Kevin Poulsen, Phiber Optik,
John Draper, Emmanuel Goldstein, SOB!, 9X, EL8, #pascal, team spl0it, attrition.org,
Kit Knox, b4b0, AntiOnline, HackerNews.com, Zo0mer, mozy, m1crochip, in0de,
#bolo, Red Knight, slack packet, Israeli Ghost, infam0us, f0rpaxe, HFX international,
kimmy, Rosie O'Donell and all K-MART employees.
---
---